Questions

I am trying to flash some TOC2 units to replace some units in the field. I have installed the "latest" IQANdevelop (G4) and have tried to send the program to the TOC2. I've connected to the TOC2 with two different USB to RS-232 adapters (one was Prolific chipset and the other was FTDI). I'm getting one of three fault messages when I try. Invalid form, Invalid data, or Bad Checksum.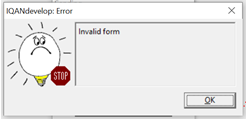 I've tried with two different computers, one running Windows 10 and the other running Windows 7, and both seem to be the same. I tried swapping the data lines and just got a timeout message.
Any other ideas? I know this hardware is older and it's a challenge connecting to it with new machines!