Ideas

When the COUT regulator on an IQAN-MC2 or IQAN-XA2 is unable to deliver the commanded current, the COUT gets the status saturated.
Saturation happens when it becomes impossible to deliver the commanded current, this is when the supply voltage is too low, the coil resistance is too high, or the max current has been tuned too high.
The available supply voltage depends on the +BAT supply to the module, the internal voltage drop in the COUT, and also on the maximum pulse width, that varies with the dither frequency.
An example of when a saturation warning may be triggered is during cranking in a 24 V system, where it is usually possible to keep the IQAN system powered up. There, if a COUT is tuned close to the maximum current that can be driven through the coil during normal operation, if an output is kept on during cranking it would have the saturation warning.
The saturation status can be seen when measuring on the channel, for example in IQANdesign:

The COUT status can be seen when adjusting in IQANrun: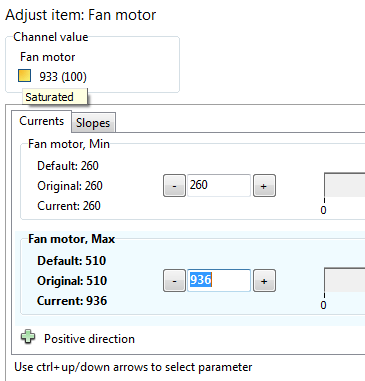 But the saturation warning also gets logged in the system log:

We have been getting some comments about the saturation warning, that it in some application just fills up the system log without providing much useful information for design or service.
Does anyone think that saturation warning in the log is useful?
Or that it should be removed?
| | | |
| --- | --- | --- |
| | Remove saturation logging | 11 |
| | | 0 |