Bugs

I am very unhappy with the inability to import function groups from working IQAN2 code into IQAN4. Atlas Copco has spent multiple man year developing and testing their IQAN2 control applications. I want to be able to take advantage of this as we work towards updating their next gen rig to work under IQAN4. I know I could do this if I was coding in MatLab/SimuLink, C, or C++. I have tried exporting the function groups with references, and without, and all I ever get when I try to import them is the following: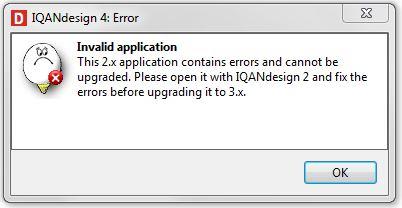 I am aware that the connections to the function group are going to be broken, and will need to be connected appropriately. I should not have to track these down and re-specify/reconnect these, in IQAN2 though, especially when I'm importing the function group from one type of module (MC2) to another (MC3).
By taking this approach IQAN makes code re-use almost impossible. I'm very disappointed
Please fix it.