Questions

Hello,
We are designing our last machines with XC42 instead the phase-out XC10 and we are experiencing some issues.

One of them is related with the activation of some Inverter (Euradrives) and Soft Starters (ABB) digital inputs.
When the DOUT HS is directly connected to those high impedance inputs and the output is OFF, surely due to the leakage current, the Inverter and the Soft Starter interpret it as ON state, so they run untimely!
It is possible to reproduce this just wiring a DOUT HS to a DIN PD, the input will be ON all the time, even when the DOUT is OFF: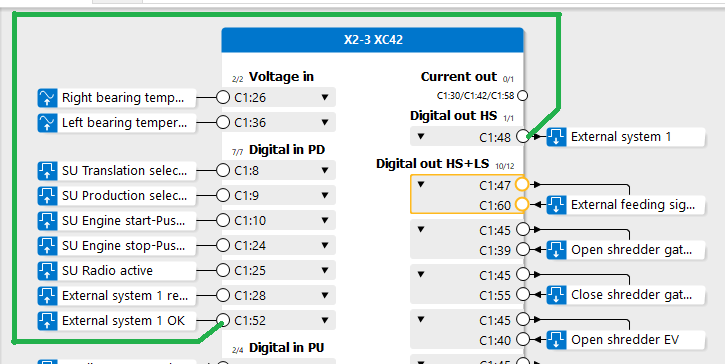 Also, when the inpedance is very high (not with XC42 DIN PD in this case), the DOUT HS is ON, the Open load error appears due to low consumption of the high impedance inputs, and this checking cannot be disabled in the IQAN...
We thought to add and extra resistor in parallel to the high impedance input to avoid this error, but we don't like this "solution", it can be really dangerous because if the resistor is broken or loosen, the devices will be running untimely!!

Our only solution was to add 24Vdc relays in the HS outputs and wire the contact of the relay to the high impedance inputs.
We think that the best solution would be the possibility of disabbling this leakage current for Open load ckeching in the DOUT HS. Is there any possibility of implanting it in future releases?

Thanks for your help and best regards,
Adolfo