Articles
To download the latest versions of the IQAN software tools, you can use this link: https://www.iqan.se/store/downloads.html

Here you will find the latest setup files for IQANdesign, IQANrun, IQANsimulate, IQANanalyze and IQANscript.

Alternatively, you can check for updates from within the tools: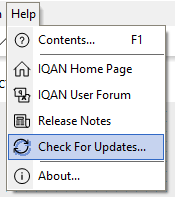 Note that when you run Check For Updates from within e.g. IQANdesign, this will download the setup file for IQANdesign only. Do the same for IQANsimulate, IQANrun and so forth.

Under Tools > Options you can set the programs to check for updates automatically.
For older versions, complete setup files for versions 2-4 of IQAN Creative Studio, IQAN Active Studio and IQAN Productive studio are found here: https://www.iqan.se/store/downloads.html#studios