Problems

We are experiencing a problem with the HS+LS outputs on an XC44 module connected to an MC43 as the master running IQAN 6.07. Pin C1:46 as the HS and pin C1:41 as the LS.
The outputs are being used to activate a solenoid. The circuit was wired to run through a relay latched by system estop, with a diode placed across the solenoid to protect the outputs as in the documentation.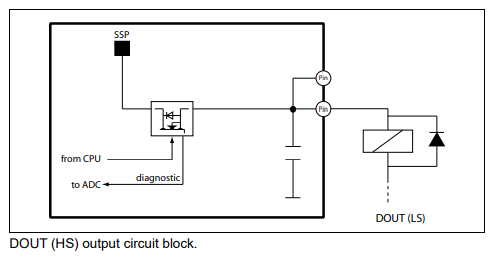 This circuit is able to latch and unlatch the solenoid with no problems, and this was repeatable many times. However when the system estop is pressed for the first time and the relay unlatches and breaks the circuit there is no error. When the relay is energized and the circuit is connected again, when the output is turned on a message is displayed reporting that the LS pin is overloaded. This message then triggers on either side of the estop from that point on. Key cycle is able to "reset" to the first estop cycle. This behavior happened ~9/10 times the cycle was repeated. There were some occasions where the error did not trigger.
The overcurrent error will only trigger when the output is requested, the estop relay can be re-energized connecting the circuit and no overcurrent is reported. 
Current measurements were taken on the HS+LS wire to investigate. The current on this wire never approaches or exceeds the listed 2.5A. This is the only load on that pin grouping, the other 3 LS pins were not used.