I have a project with an MC42 (headmaster) and an MD3.   The project also has a G11.   All of the connectivity works for the G11 to connect through my Iphone.  it displays the IQAN connect key and I can interact via the internet. 
The System information Channel does not show the Connect key on the MD3.  (screenshot attached) .   There are two listings, because i added the SIC into both the MC42 and the MD3; neither shows.
You can see the connected status, as well as the Connect code on the phone. 
Any ideas why it won't show the connect code on the MD3 ?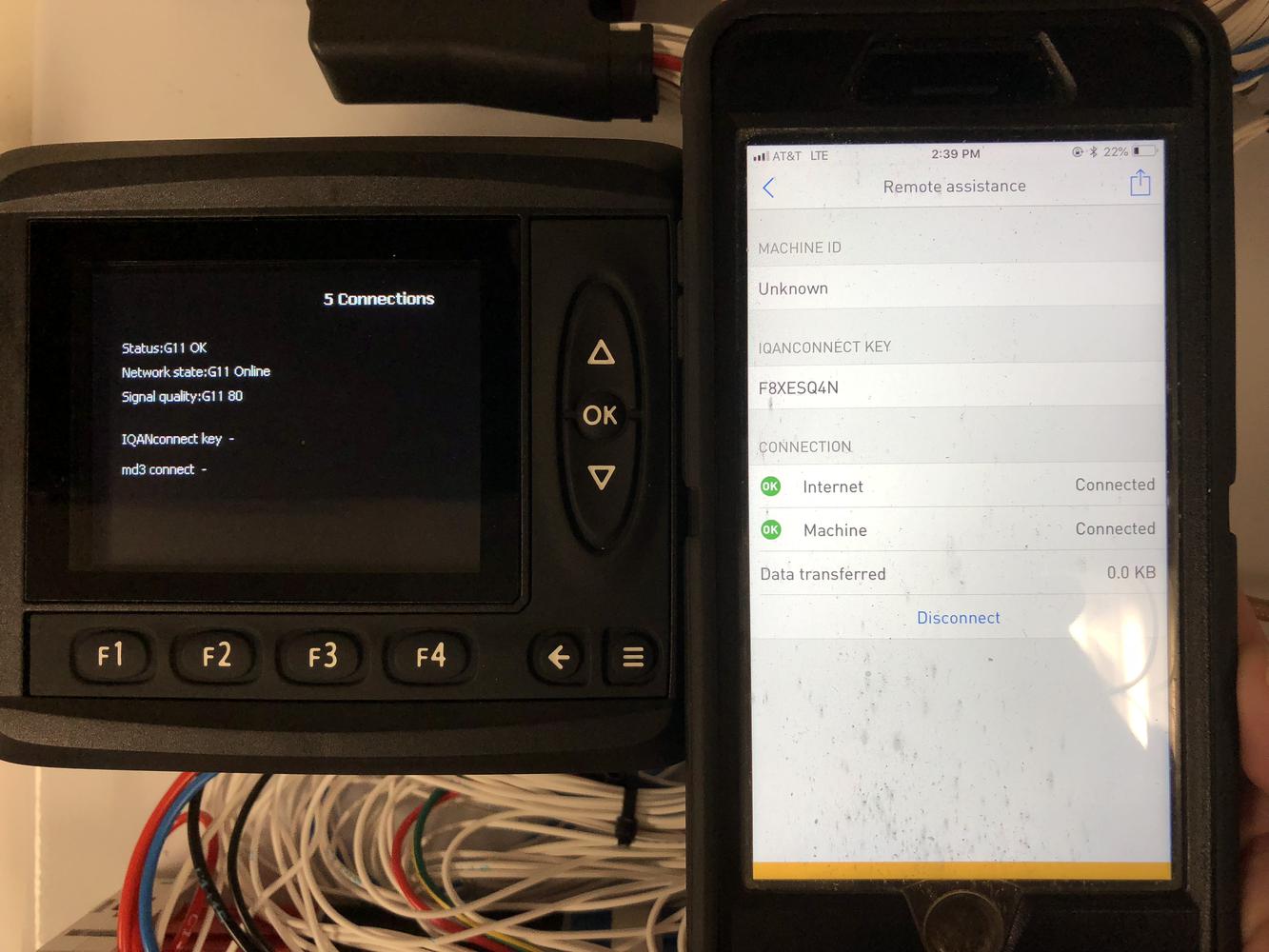 I'm not able to load files using IQAN Sync for Android. It gives error message something like "  No argument for format fmx:iqansync:=uri =connect// ". Same software has been loaded successfully to device with IQAN design and ethernet cable.
I updated iOS app to 5.01.4 yesterday and now I can not connect to any G11 modem. The app will see the module but when sending file to machine, I get a "Communication interface error" "Could not find services". When going into Bluetooth adapter configuration, it again sees the module but only show 0.00 on firmware, BIOS, and Hardware versions. Prior to this update, everything was working great. System is running 4.07.14.4747 on a MC42.
Hello there,
We purchased two new MR4-7 modules with firmware and Iqan design version 4.03xx. We updated both modules with a machine clone file to version 4.07.7.1413 using Iqan run.
Then we tried to connect with the G11 to the MD4-7 with GSM and Iqan Syn. It was possible to select the machine ID to connect to. After that Iqan sync give a message: no handshake. 
The G11 led was blinking 4xred 2xyellow = Internal errror/G11
We tried with Iqan run for tablets and the problem was the same.
After that, we updated the MD4-7 with the same aplication using Iqan design to version 4.07.15 and then with iqan run back to the clonefile to version 4.07.7 and then the G11 was working correct.
What goes wrong?
Kind regards Laura
I am trying to copy a project file(.idax) via email attachment on an iphone running iOS10 and after the upgrading to iOS11.1.2.  The IQANsync version is 5.01 and the file is coming from IQANdesign 5.01.32.4815.
the error pop up in IQANsync reads:
" Incompatible Version
This file is too new.  Please update your version of IQANsync for iOS"
The app store tells me i have the latest version.  Is  there a way to save files to an older format?
Hello!
I am trying to update my credentials for Dropbox on IQANsync on the phone, but it will not let me access my files from the dropbox link.
The phone is iPhone 5, iOS version 10.3.3 and IQANsync version is 4.07.2
I go to "Manage files"->"Dropbox".
From there I see a screen with the text "No Dropbox access. Dropbox acces has not been set up, or needs to be renewed. Please enter your Dropbox credentials and approve access in the web form that will show next."
I press OK, type in my credentials and after that press sign in. I allow IQANsync to access my Dropbox and after that it crashes out to the "Device" screen.
I have tried removing the access right from the Dropbox user settings, still no improvement.
I have another phone, iPhone 5s, iOS version 11.1.1 and IQANsync version 4.07.2.
I revoked the credentials on the 5s phone and I could easily allow IQANsync access to Dropbox on that phone because the screen didn't crash after allowing access.
Is it a bug?

Hello.
I need to upload a Project to a machine with MD4+MC2 (via iqansync). The project was uploaded fine to the MC2, but I can't upload the project to MD4. It goes fine until 50%, but then starts to upload the firmware, and finally it stops and gives an error message. The size of the Project is 25mb.The original Project I suppose was made with 4.03 and the new one was made with 4.07.
Is there any possibility to upload Project (or at least firmware) with a usb pendrive or memory card?
Cloud server where to save your Iqan work results (maybe part of Iqan sync app) would be super! Something like this:
WNexus Cloud Service
https://www.tamtrongroup.com/en/productcat/information-management/

Our online service offers tools for versatile weighing information management, reporting, and analysing.
• Secure and easy-to-use cloud service
• Weighing information is automatically transferred from the scale to the server using GPRS
• Transparent and simple reporting between parties
• Option to set individual user rights
• Combining weighing information from multiple sources as an option: for example in a port environment, information from our container stacker scales, straddle carrier scales, and truck scales can be combined
Is the G11 capable of reciving Bluetooth signals from a bluetooth sensor to be displayed the screen?
I have started using the G11 for remote diagnostics on a basic level until the point I have a better grasp on using it. We just installed it on one of our "Problem Child" machines as long as the tech was there. This was to not only test the system at a further distance than our shop floor to the office but to help dianose any future issues they may have. I had my Tech connect and we tried to communicate (see below clip). From my understanding I have everything correct and the g11 is up to date. I can find no trouble shooting documentation as how to diagnose or fix this issue.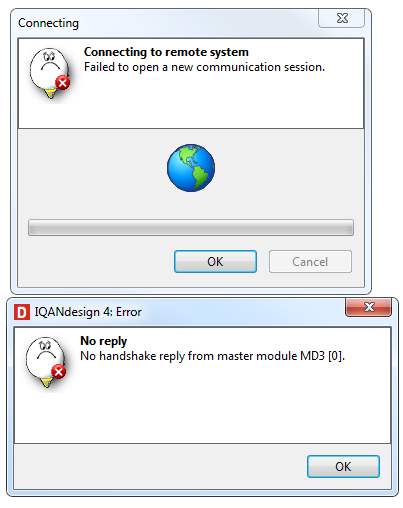 I believe this is the same problem that i have run into and its caused from not allowing connectivity under the security screen.
One the left hand side go into the Security tab and then into root. (as shown)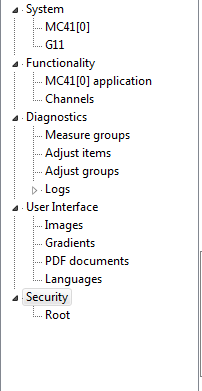 And here is a screen shot of the settings that should allow you to connect to the system through the G11 at any time. Make sure to select "Always" on all 3 of the connectivity options.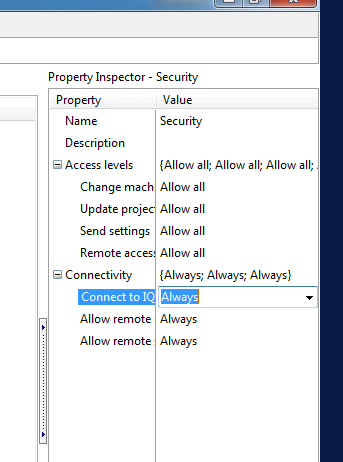 Hope this helps!