Hello IQAN Team,
We have been having an ongoing issue when trying to connect to IQAN systems using IQAN connect remote assistance and G11 / G12. When the user attempts to connect to the G1x for remote assistance using their smart phone the following error is displayed:
Error resolving Address connect.iqan.se:
nodename nor servname provided, or not known (8)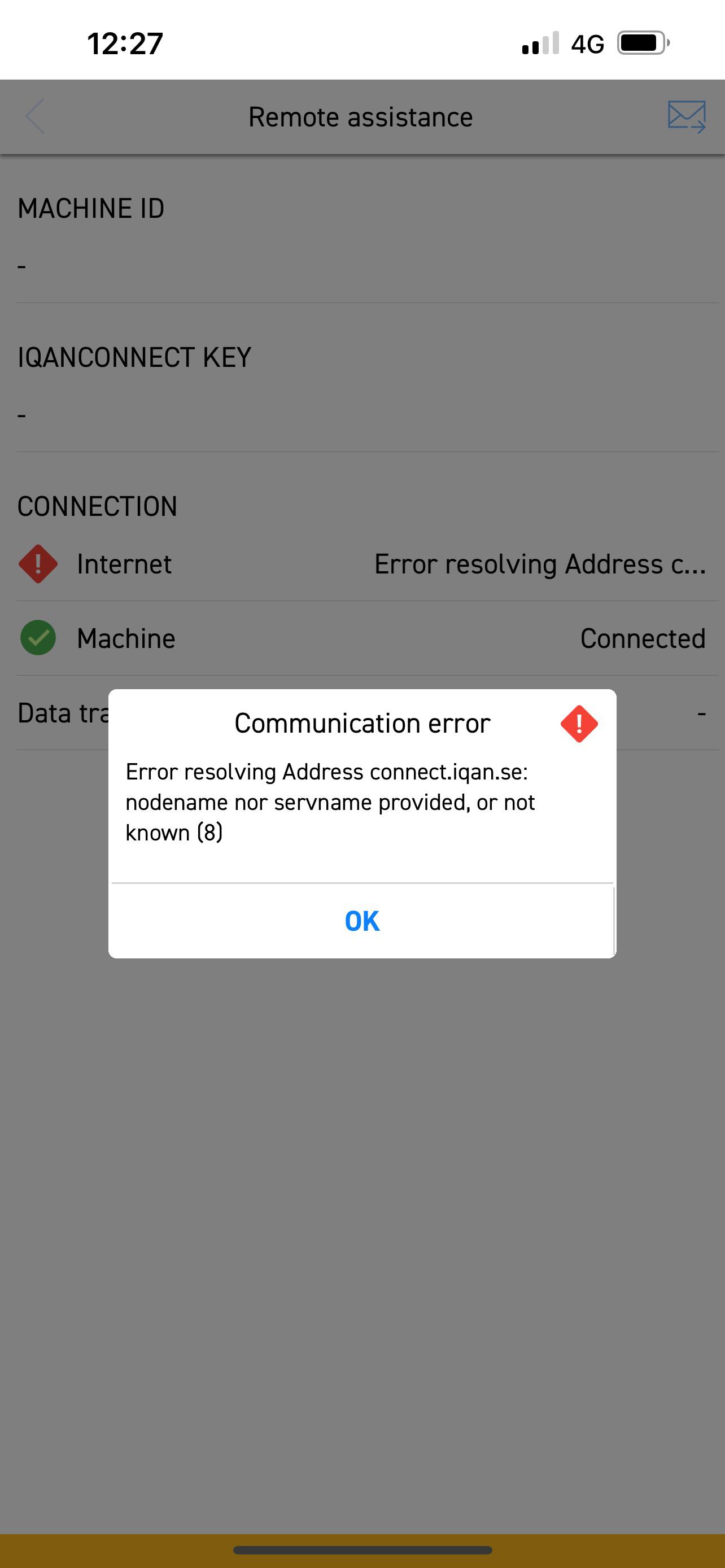 If the user is able to connect their smart phone to a WiFi connection the error is not displayed and remote assistance is possible. The user can even get a shared WiFi connection using a personal hotspot and remote assistance is possible. It seems like a 3G or 4G cellular connection directly from the device with IQANgo is the problem somehow. This problem is occurring in Australia on multiple IQAN systems and smart devices.

We are using a cellular modem to allow our MD4 to connect to IQAN connect. While attempting to update the system using remote connect on IQAN Run the process will hang after updating the MD4.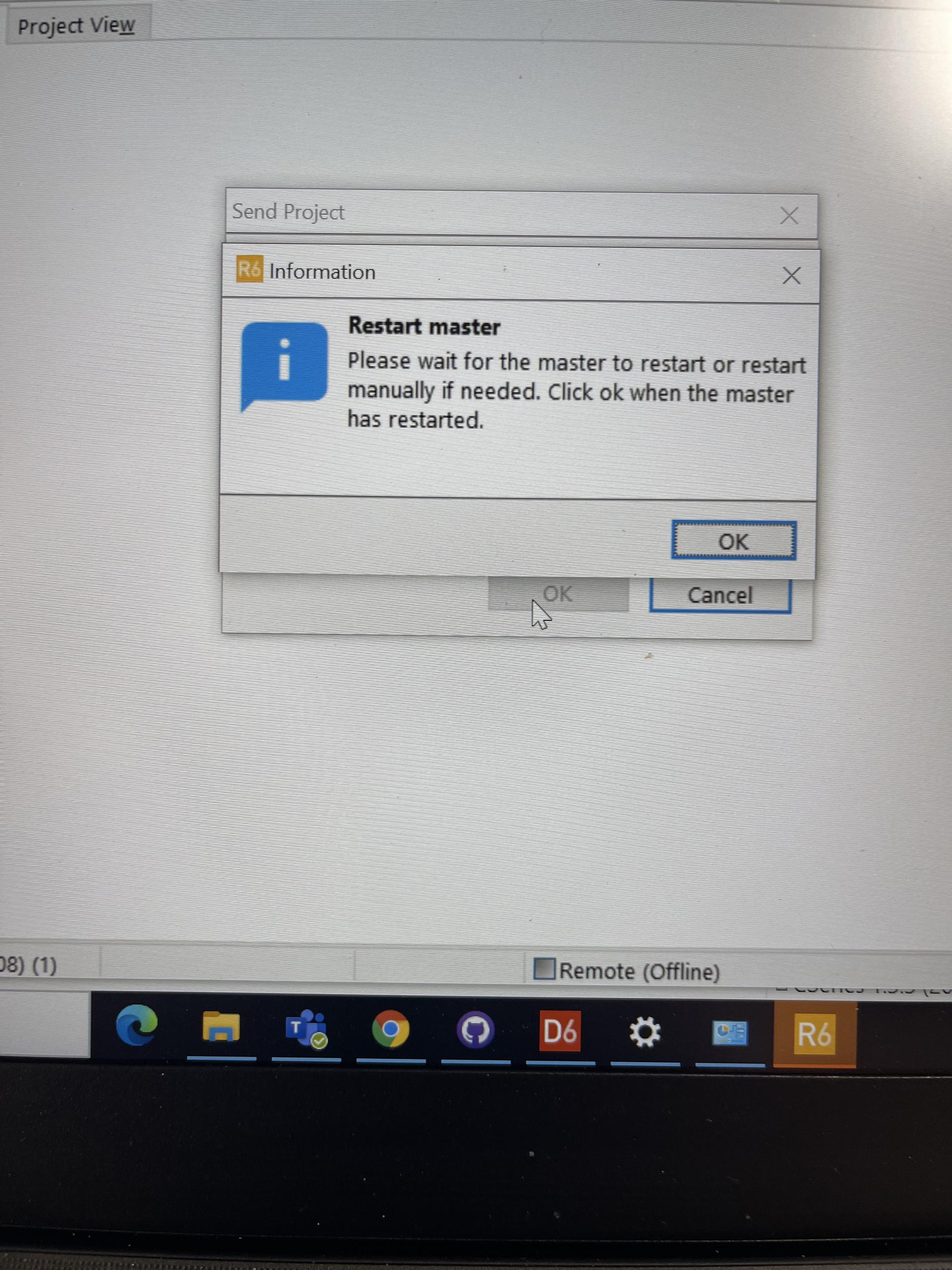 We have tried accessing a machine remotely and have the following message "no reply from IQANconnect server". is this a problem on Parker end? We have tried 2 PC's and have the same message.

Hi, I have a MD4-7" running onboard a vessel connected to the local network onboard for remote diagnostics. The network administrator needs to know the server adress and port number that the iqan needs access to for it to be able to connect to IQAN connect server. This is due to the firewall on the local network onboard.
The network onboard is asigning the MD4 an adress in the 192.168.36.xxx-series. And IP adress is set to default in IQAN design.

For the MD4 to be able to connect to the IQANconnect server, the firewall must allow for outgoing traffic on TCP port 60100.

From IQANdesign user manual:

I know this can be problematic if the network administrator can only open up this port for traffic to a specific IP address.
Does it help to know it is connect.iqan.se ? For load balancing, we have multiple IQANconnect servers starting and stopping.

Hello,
I have been having trouble connecting remotely all day today. Sometimes i get this: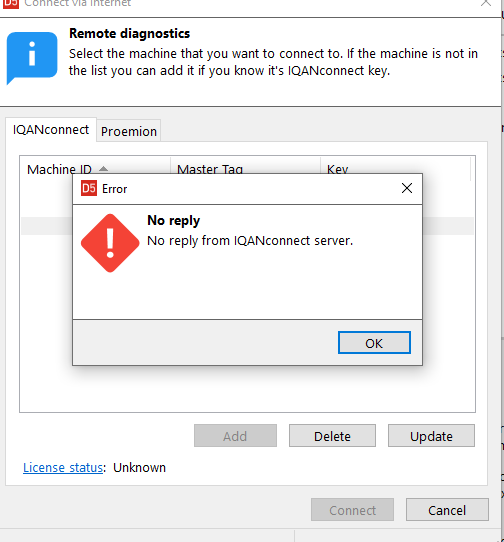 ...and other times i am able to get through and connect. 
My thought is that maybe the server is having issues, but i have no quick way of knowing. 
Is there some sort of server status page that tells the current status that i am not able to find? or do i really have to contact someone at Parker or sift through the forums to figure that out?
Its pretty sad that i can find out with a quickness whether or not i can play playstation online tonight quicker than i can tell a customer whether or not they can connect to their machine in the field.