Hello,
We have developed a new joystick for heavy duty mobile equipment. The joystick with its customized grip comes mounted on a Parker LC6 base.
Features:
3-axis analogue (X,Y,Z) all with dual sensors to provide a diverse signal redundancy.
7 pushbuttons with good tactile feeling.
Compact and ergonomic design
Light weight, only 200g.
Left and Right version
We have an "IQAN version" with pin assignment made for IQAN XC21 module so no extra wire harness adaptation is necessary. You'll find that version on page 5 in the data sheet.
We are supplying this product to both small customers and larger high quantity OEMs. Don't hesitate to contact us if you want a quote for your project!
E-mail: info@hydraulkompaniet.se or phone +46 (0)90-121550
The joystick is developed, assembled and tested in Sweden. We ship worldwide!
Link to data sheet:
http://www.hydraulkompaniet.se/index.php?route=product/attachmanager/getfile&product_attach_file_id=42773
Link to our web shop where you can order them directly:
http://www.hkhydraulic.com/index.php?route=product/search&search=emic7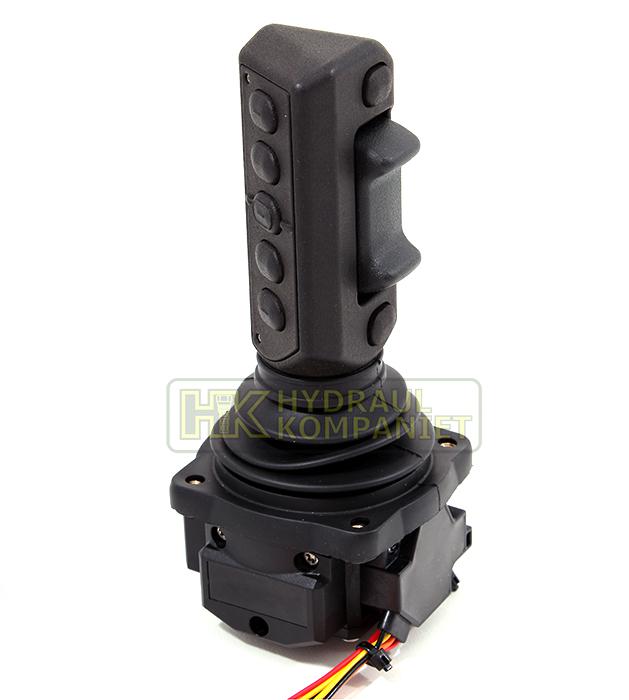 EMIC7

Hello,
We have noted that the recommended replacement for the IQAN-LM-3D mini lever is the IQAN-LC6-X05 analog joystick, which has the same small size and 3rd axis option - combined with an IQAN-XC21 CAN module for the CAN feature.
Is it possible to directly interchange the IQAN-LM-3D with the combination IQAN-LC6-X05 / IQAN-XC21 on an older machine with an IQAN Develop platform (MDM system) in the same way the IQAN-LC5-C02 can replace an IQAN-LL unit?
Publ.no: HY33-8405-IS/UK is a good reference for changing out LL units, do you have a similar document for the LM?
It is neat that you can change to the latest generation of large lever unit without any application change, my question is can we do the same for the LM?
Thank you.