Hi,
I am a mechatronics engineer working for a company manufacturing service trucks and grease pump systems used in the mining industry in Australia. My role is writing the IQAN software as well as testing and commissioning the finished machines. We have an IQAN system (MD4-7 + XC41) installed on a grease pump system with a Parker Modem (PSVG-IQAN-C2E1M3W1U1) for telemetry. We have installed this modem and have even placed orders for more through our local Parker rep with the understanding that it has WiFi capability, however I cannot get this to work and it only seems to acquire an internet connection on 4G. Specifically, I cannot sign into the WiFi client tool even though I have administrator rights on parkermobileiot.com (I have no problem logging in and have set up the users. templates and widgets and receiving data without problems over 4G). The mine sites where we are testing this out next week all use WiFi and feedback from our sales rep suggests WiFi meshes are a general trend for all sites in Australia where 4G access is limited or not available. Ideally, I would like WiFi to be working by next week so we can demonstrate our device - is this possible? If not, when can I expect WiFi to be working with these modems?
Look forward to your response. Thanks in advance.

Hello,
We are a Parker Store looking to test drive a GT (IoT) on one of our machine we resale (Forestry Equipment)
I notice there is a trial version for 6 month and that will be perfect to run the test (Part#165341)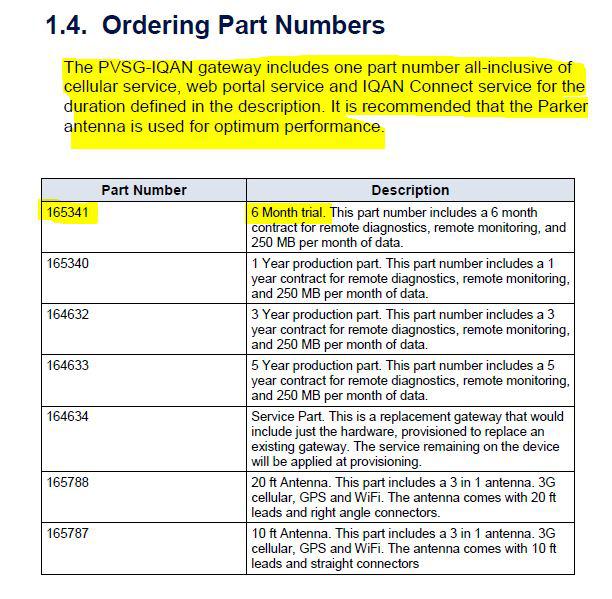 I open the portail link and it ask for a password (Login), is that Login the same as PHConnect or do we get a Login following our purchase on PHConnect?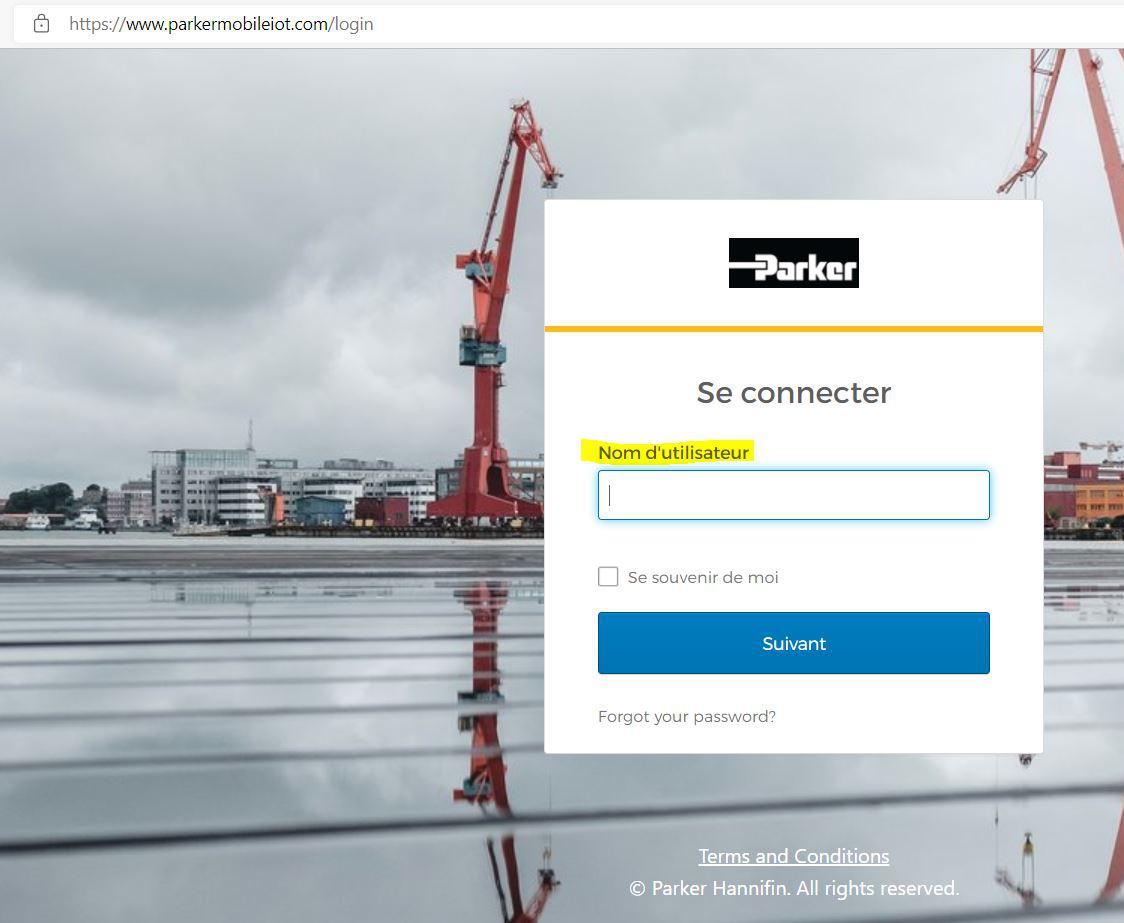 Also it says a set up need to be perform for each Gateway (Master Tag) and it require a special agreement. Can this agreement be set with local Parker sales or how does it work?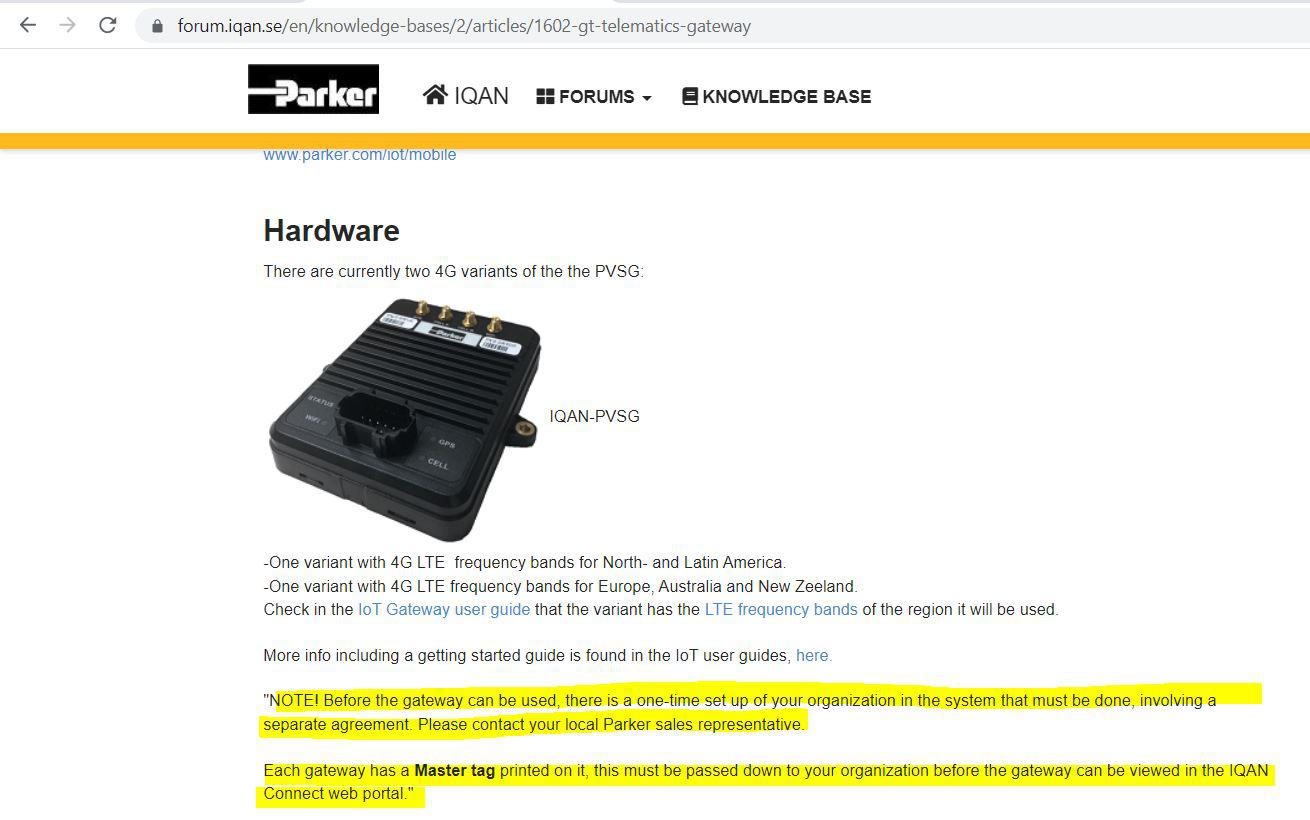 Br
/Adrien

In our application, we are using a Parker Gateway (4G PSVG-IQAN) to talk with a standard J1939 CAN bus.
On some vehicles, this ends up being a 500k CAN bus. By default, the device supports 250k J1939.
We then have to then keep track of this difference, per vehicle, and if we ever send a service part, I have to know in advance and spend more manual effort to have the gateway updated before it gets plugged in.
Is there a way to make an improvement to the current "Ask Parker for Firmware update" process that is not self-service??
Best Possible Solution: Have the gateway be auto-baud rate and not send any data packets on J1939 until it listens for the bus speed... i.e. it will then support 250k/500k without user configuration.
Alternative Solution: Have the gateway with a software-configurable j1939 baudrate which is a configuration parameter that can be set within the IQAN environment... I still would have to keep track, but at least I could be in control of the change-over and not dependent on an OTA update from Parker directly.
Thoughts?
Anyone else with this challenge?
We would gladly pay to have this feature developed in a timely manner.