Hello,
It would be nice to be able to set some kind of power saving/idle mode for a module.
Meaning it could be in power saving mode with a very low cycle time and inactivated I/O's, waiting for a trigger event.
In our application this could be used as for e.g. a diesel heater timer. Then we could integrate the diesel heater to the iqan display.
/Fredrik


Hello, I want to know if is possible to substitute a L90ls electrovalve with a resistence to check an expansion module.
I want to make a bank to conect a master or a slave module (XP2, XA2, MC43...) and check outputs of the module.
As the electrovalve has 21-23 ohms, I've used a 20 and 30 ohms resistence, but "open load" error appears with both options.
Is there any way to check the outputs with a test bank?

It would be super helpful to have a USB port on new master modules that would allow end users to plug in and download new software that we could send them, instead of making them purchase IQAN Run. Just an idea, I'm sure others agree that some sort of alternative way to allow end-users or dealers to load program updates would be very helpful. (if there is a way to do this without any additional hardware please let me know)

The MC4x now has Current loop inputs (4-20 mA) but no 4-20 mA Output.

Does Parker IQAN ever plan to offer a module (ICP Compatible) with Industrial output command signals Such as 4-20mA , 0-5VDC and 0-10 VDC?
I work with some Hybrid applications that integrate Industrial PLC's with IQAN Mobile controllers.
We are often struggling with signal integration between the two platforms. I know there are CAN to Analog solutions but they cost money and take time to integrate.
Hello
is the j1772 standard compatible with Iqan equipment?
thank
We've used IQAN modules extensively in our equipment and we've always mounted the modules in an electrical cabinet. We prefer the entire IQAN system to other PLCs that would normally be used in a cabinet, but we could really benefit from an IQAN module that was more industrial style, i.e. that it would have screw terminals that were easy to rearrange, add, remove, etc.
Has anything like this been considered before? Anyone else with this need?
Could you advise if there is a replacement for the 5010001 ?
I have a defective module on my SMV SC4542 TA5 and I can not find a replcement

could you assist me ?
I am trying to control a valve without over speeding the pump. What would the MR values need to be? Does 100% command at a 100% Max MR value equate to the source voltage, in this case 24VDC? See coil characteristics below.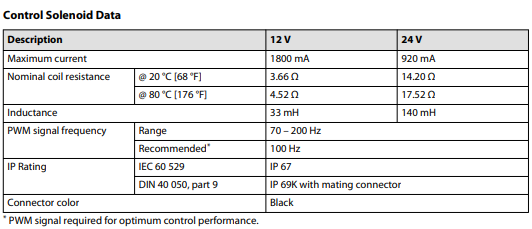 If you have an important function like this you should not use PWM outputs from IQAN, you should use COUT. The PWM outputs from IQAN are not temperature compensated and you will see consistency / repeatability problems. When you use the current output channels with IQAN you will be able to set minimum and maximum current requirements easily and the current will compensate for changes in coil resistance.
Hi all.
I'm looking to obtain a set of id tags. I'm only looking to run 5 modules. Is there a way to just buy a set of singe tags0-7 without having to buy box's of 10 of each that I will never use?
Thanks
James