IQANdesign 6 released
For an introduction to IQANdesign 6, see: http://solutions.parker.com/IQAN.
Main features
Integration of Matlab/Simulink blocks
IQANdesign 6 introduces a feature for integrating Simulink models; With the IQAN toolbox for the Mathworks software Simulink, a designer can generate blocks from a Simulink model of a controller, and integrate this in an IQAN-MC4x
application.
More information about the IQAN Simulink toolbox is found on the IQAN store, here.

Implemented for IQAN-MC41, -MC42 and -MC43, the feature is not yet implemented in MC4xFS.


J1939 improvements
Multi-packet and text support on JFIN/JFOUT
It is now possible to use JFIN/JFOUT for handling both incoming and outgoing J1939 messages where the PG data length is longer than 8 bytes, multi-packet messages.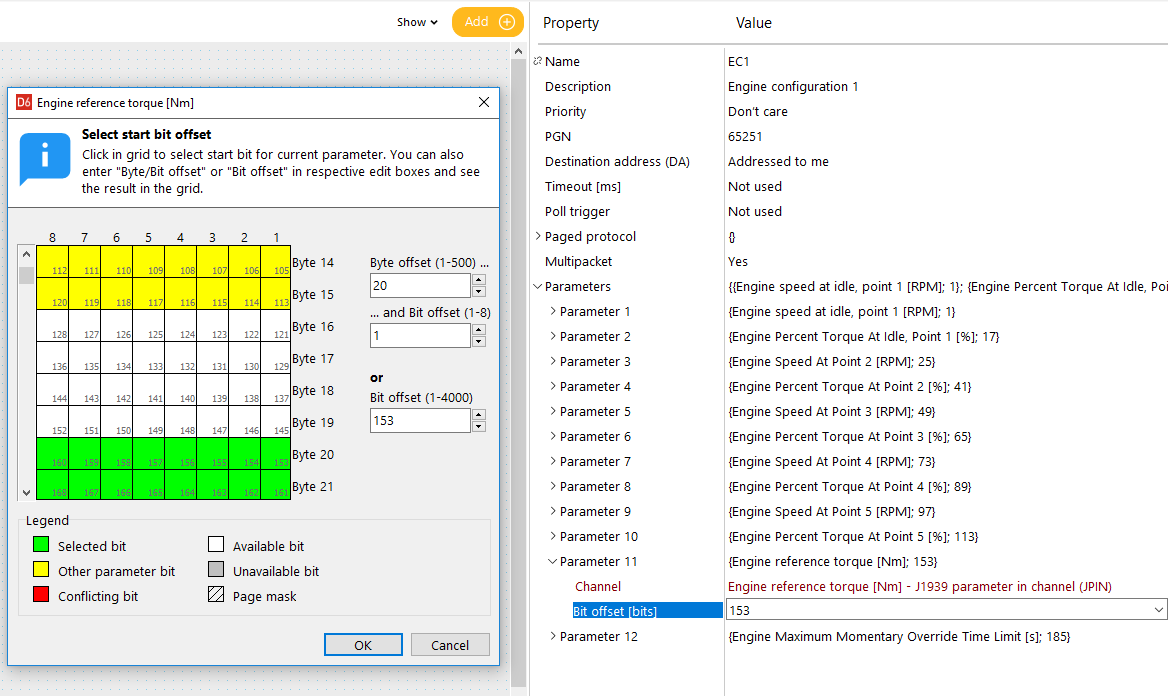 Text is supported by new channels TPIN/TPOUT, removing the need for the previous JTOUT channel: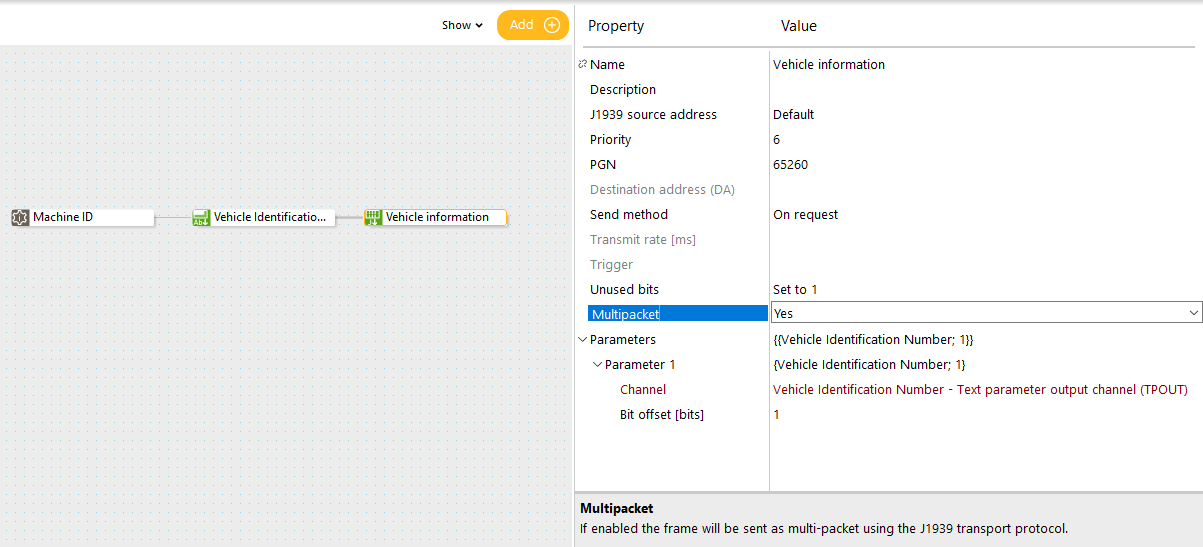 Add Blinking Lamp status to MDGN:s for J1939 DM1 decoding, controlled by property Enable lamp flash on DM1 in a channel.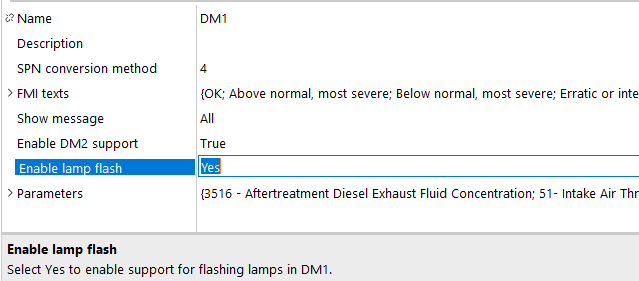 Improved support for J1939 Component ID and Software ID, can now be controlled by properties on a master module.
New expansion modules: XC41/XC42/XC43/XC44
The IQAN-XC4x is a new series of expansion modules based on the MC4x hardware.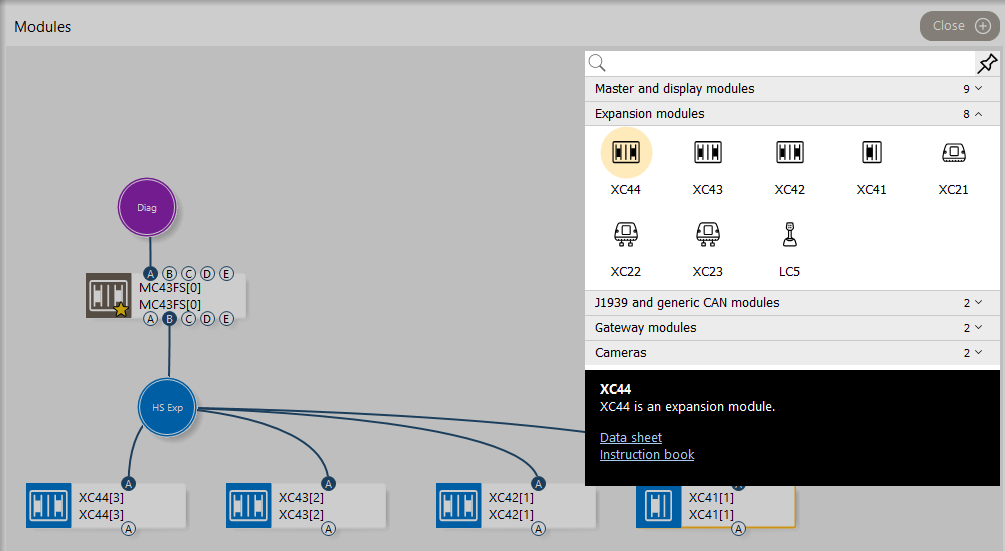 The modules have similar I/O capability as the corresponding MC4x, and support both classic CAN and CAN FD.
It is planned to certify the XC4x-series for functional safety, however, this is not yet done in 6.00.
New expansion bus type for higher speeds
New expansion modules XC4x have support for higher speeds, both classic CAN up to 500 kbit/s and CAN FD, with 500 kbps as nominal bit rate and 2000 kbps as bit rate for the data field.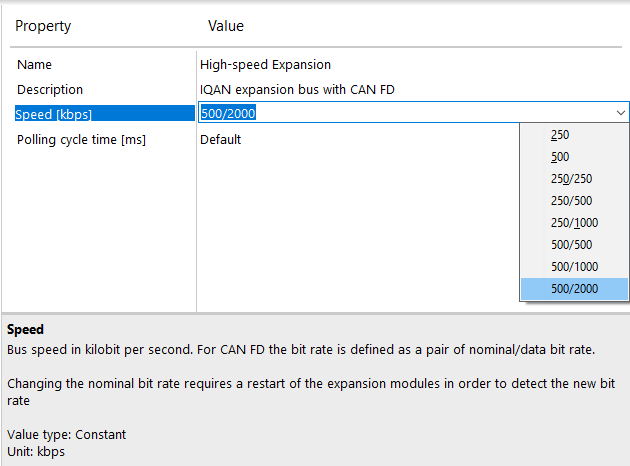 Speed is selected on the bus and automatically detected by the XC4x.
CAN FD is supported on MC4x and MC4xFS, on buses A to C
When this bus type is combined with classic expansion modules such as XC21, classic CAN with the lower speed 250 kbit/s must be used.
Remove modules no longer recommended for new design
IQANdesign 6 only includes the most modern target products. Following modules are no longer recommended for new designs, and are not carried over to IQANdesign 6:
IQAN-MC2

IQAN-MC3, IQAN-MC31
IQAN-MD3
IQAN-XA2. IQAN-XS2
IQAN-XC10
IQAN-G2/G3
XR radio
These modules will instead continue to be supported in the 5.x branch.
Other features
Measure function group utilization

When measuring, the function group header now shows utilization for that group. The value includes all channels and lower level function groups of the group.
COUT: Control "bidirectional" property with channel
Implemented
SV camera mirror in run-time
Moved properties for flip/mirror/bitrate/HDR from the camera to video control. This means that individual video controls can have different settings. Useful e.g. for setting a lower bitrate on display pages showing multiple camera images.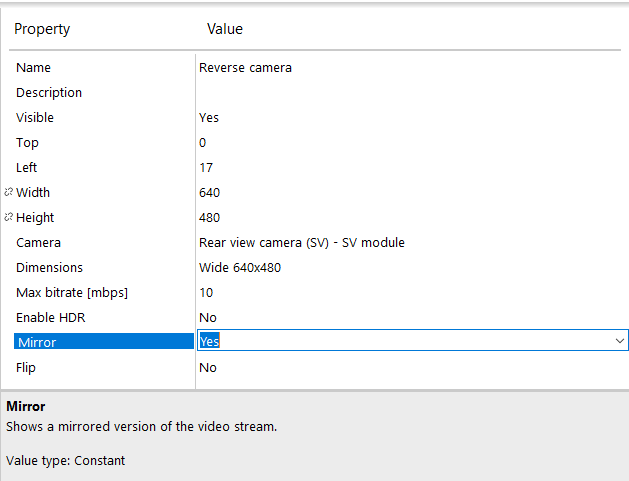 Move property "Connect to IQANconnect" to master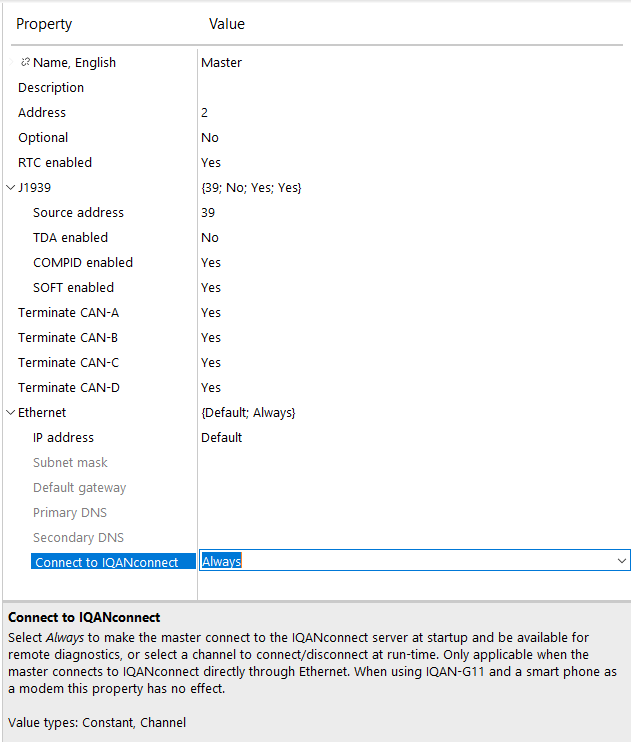 As this property only applies for connection to the IQANconnect server via the Ethernet port (not to G11/GT), moved from group property "Connectivity" on Security node to master module. Renamed group property "IP address" to "Ethernet".


Some 6.00 updates that will also come in the 5.05 release:
Implement full circle mode on the gauge control
Support external ESC key in PDF reader
Various bug fixes.
Version 6.00 is available on check for updates and on IQAN store (https://www.iqan.se/store/downloads.html).
Also, see

It would be so nice if we could load and resize vector images (.svg) directly on the screen in the design environment. This would make screen layout much faster.

Showing the pin connections on the module screen in Version 5 is really nice. However, not showing all of the available I/O makes it difficult to see how pins are shared between different channel types. For example, you may not realize that you could simply move a DOUT to a different channel assignment (i.e. DOUT:F rather than DOUT:I) to allow for an additional COUT that shares a pin assignment with DOUT:I (ref XA2 module). Is it possible to have the option to show all the I/O like before, but keep the pin connections displayed?
Adapting the MC4x modules on our first machines now, we had quite a struggle with the various pin characteristics (DIN Pull-up / Down, A15/17 suitable for relays on the MC3, et cetera). Such details can be found in the Specs of course, but it would be quicker & easier if we can see such details in IQAN Design, for example in the bottom-right corner when clicking an in- or output pin.


When adjusting a parameter on the MD4 adjust screen, can the reference channel for the adjust group be displayed? It would also be nice if individual adjust items could have their own reference channels rather than the entire group.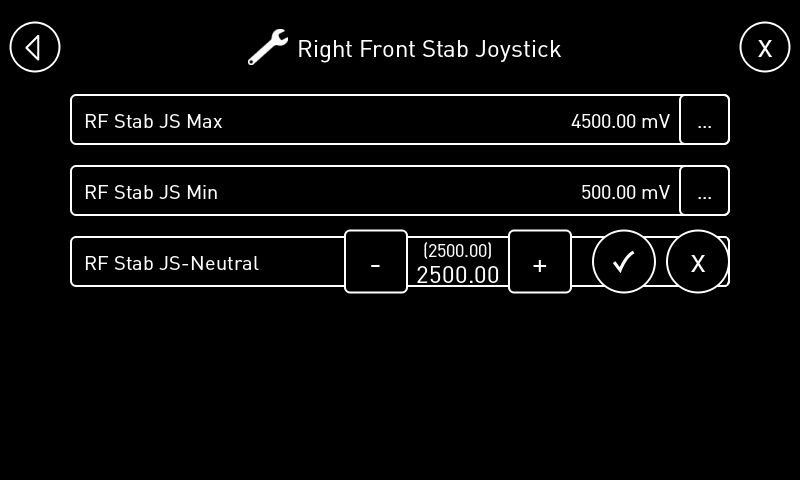 I am doing a bunch with functional groups in the latest project to clean things up a bit, and it is annoying to have to individually name/rename each of the FGIs, especially when I change the name of the source and then "have to" rename it again in every Funtional Group where it shows up.
Maybe have a box to check to override the default name strategy for the times someone might want another name used.
I function expression, we can compare the parameter state or state machine to an integer value. problem with this is that you re-arrange the states or add a state, you have update all the values where ever you created the logic
Would it be possible to use the different parameter states as an enumerated value so that the logic can be:
a) clearer
b) easier to maintain

JMarc



The latest IQANdesign versions include some new demo pages for the IQAN-MD4-7. The pages are built on the Fork Lift application example, and illustrate some useful techniques, like working with transparency.
Fork Lift, "Industrial" theme: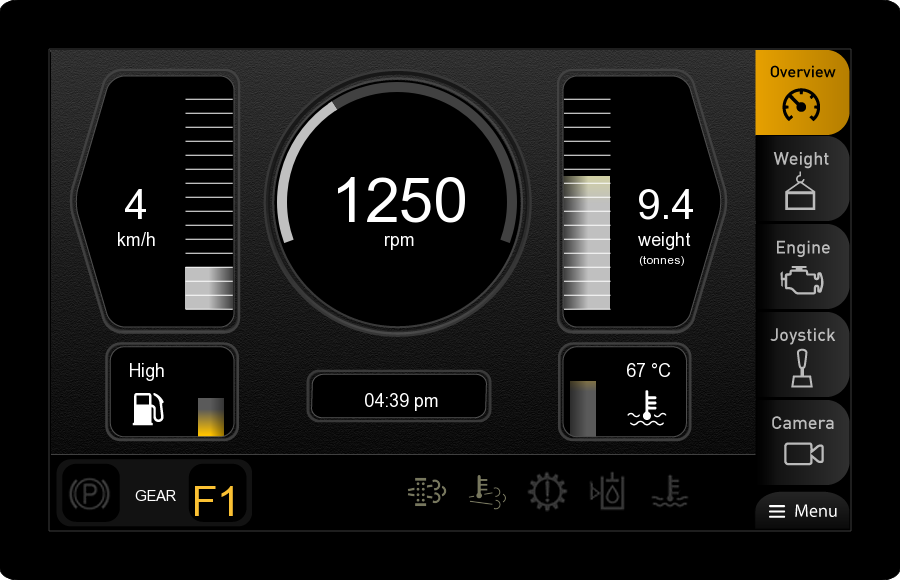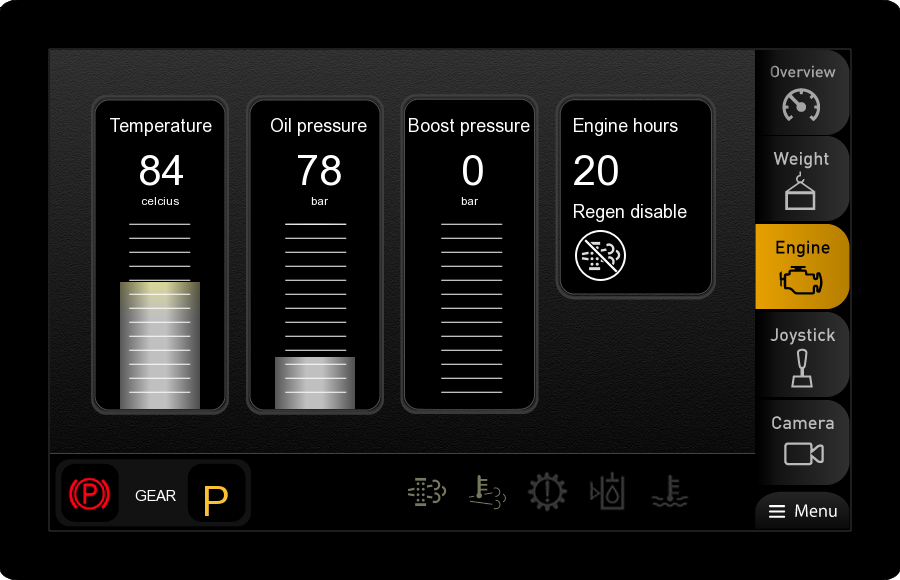 Fork Lift, "High Tech" theme: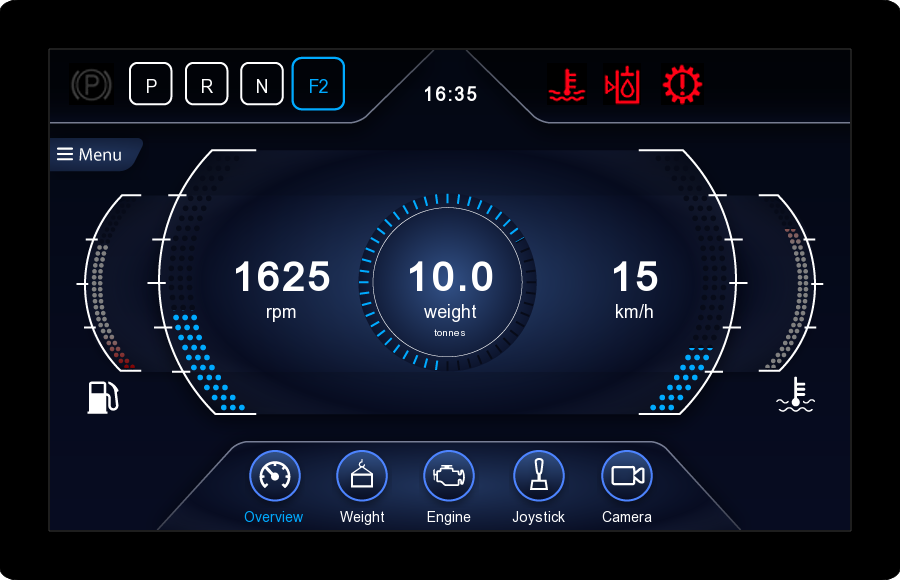 Fork Lift, "Classic" theme: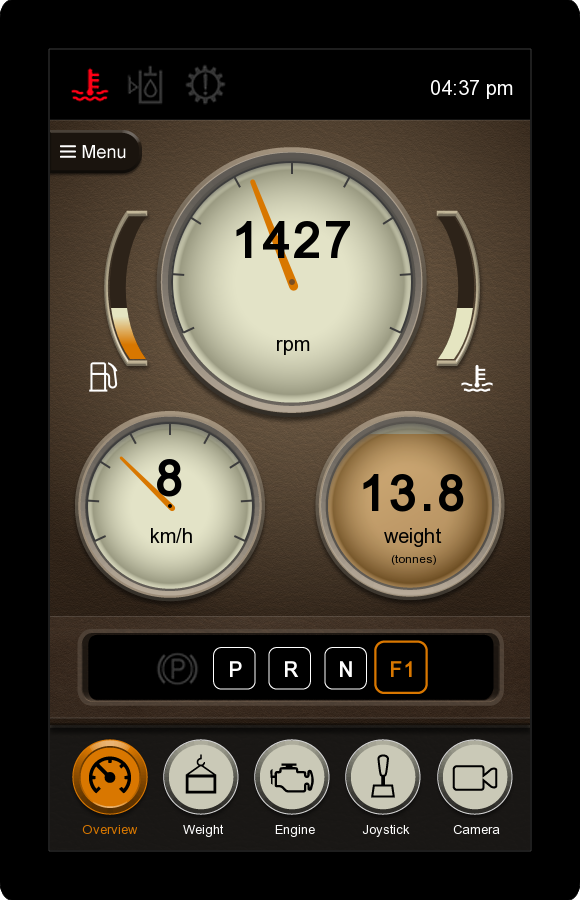 The pages were made by an industrial designer. He worked in Illustrator/Photoshop to make the graphical design elements, and then used them to build the HMI in IQANdesign. He offers his services to IQAN users, we can provide the contact details.
These are the files:
My Documents\IQAN Files\Examples\Fork lift\Fork lift.ida3
My Documents\IQAN Files\Examples\Fork lift\Classic.ids3
My Documents\IQAN Files\Examples\Fork lift\HighTech.ids3
Classic and HighTech use the same application as in Fork lift, but with different look and feel. They are stripped project files, but can be opened in IQANdesign in the same way as a normal ida3 file. Just select the correct file type in the open dialog, or double-click the file in Windows Explorer.

Currently the only way to populate the diagnostics in an application is to create an spn for each diagnostic. In some applications we have 500-600 diagnostics. Is the a way we could populate and spn table with a spreadsheet or txt file
I would like to see support for text-based project files so that iQANdesign projects can be more easily used with an RCS like Git. I wouldn't expect to see integrated support for Git from within iQANdesign, but just the ability to read and save back to a text-based project file.
There is already support for saving to text (albeit using an explicit operation) so that you can use external tools to perform a diff:
https://forum.iqan.se/communities/1/topics/1165-difference-between-version-github
However, because iQANdesign is unable to read (as far as I know) these text project files it prevents making use of other RCS features like merges. Binary formats (when used with an RCS) are generally treated as direct replacements, whereas text allows a system to track more granular changes to a project which is invaluable for documentation purposes (i.e. seeing which portion of the code is changed vs. replacing one file for another and hoping that all of the changes were described somewhere...).
At my company, we use a git-based repository for many of our software projects so we can collaborate more easily across locations, and I see where this same ability would be useful for iQAN and (with the text-based save option) support is already partially there.
Thanks.